Reptile Parties you will remember
Are you looking for a fabulously unique birthday party for your kid? Do you want to give them a wonderful memory their friends will never stop talking about? Does your youngster love all things that slither, crawl and slide? If the answer's yes – look no further! Because, here at Reptile Encounters we specialise in making kids' birthdays fantastic, fun-filled, unforgettable days!
Our stunning reptile shows for birthday parties have been a hit with parents in and around Melbourne for over a decade, and we just love to entertain and educate the kids (and adults too), while you sit back, relax and enjoy the show! And you can do just that, as our parties are totally safe for kids of all ages and our wildlife presenters are as smiley as they are knowledgeable. Even better, all the excitement is truly educational and a special chance for the kids to connect with nature from the comfort and safety of your lounge room.
At this point you may be asking yourself "what actually happens at a reptile theme birthday party?" Well, for starters, we'll bring a Stumpy Tail Lizard and a Saltwater Crocodile to make the coolest party guestlist this side of Sydney. Exciting, huh? Well then, how about their chums, a Spiny-Leaf Stick Insect, Green Tree Frog and Freshwater Turtle join the crew?! And just to put the icing on the cake, a super-friendly Monitor Lizard, a Carpet Python and an Olive will all be invited to the show as well!
Now, if getting to know our lovely reptile friends sounds good, there's more – each and every one of the party guests will have a chance to touch them too! Our degree educated wildlife presenters enjoy nothing more than getting all your guests comfy with our hand-tame reptile chums. But of course the birthday child will be the centre of attention on the day – just think of the never-ending photo opportunities of them holding all the critters we bring along! We'll put on a reptile birthday party that's sure to get adrenaline pumping and smiles beaming. And your birthday child will be the envy of all their friends.
Plus we're full of great ideas to make the day even more memorable. How about snakes alive lollies as reptile party favors for kids? Or super-cool reptile birthday invitations? We can help out with these! After all this, you're probably pining to know a little bit more about these remarkable reptiles who may be hanging around in your back garden on a sunny Saturday not long from now. Let's introduce a couple.
Meet some of your reptile party guests
VIP Guest #1 - Olive Python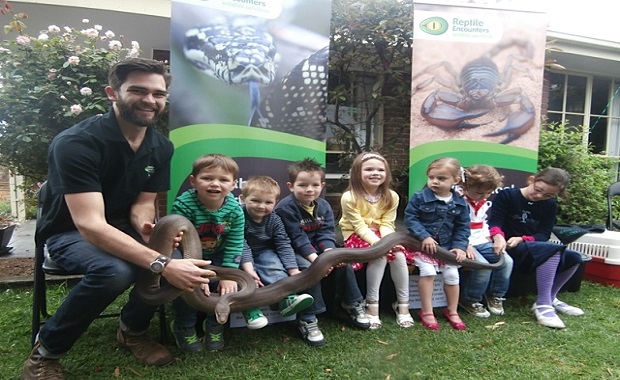 One of our favourite reptiles, and VIP guest at your kids reptile party, will be Australia's very own Olive Python! These beauties make their homes in Western Australia, Northern Territory and Queensland and are also known as "Liasis olivaceus". Olive Pythons can grow up to an incredible 4 metres in length and sometimes even feast on crocodiles… But don't worry! They are known for being mega friendly, curious and calm, so everyone who wants to will be able to have a hold, just like in the snap below.
VIP Guest #2 - Saltwater Crocodile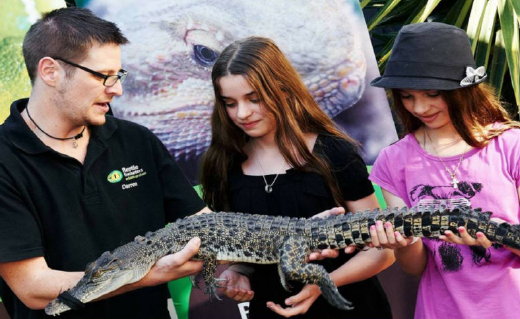 Our Saltwater Croc sure is a one of a kind, never forgotten party guest if we've ever seen one. Growing up to an enormous 6m in length, salties are the largest living reptiles and have been on Earth for at least 4 million years! Like their buddy, the Olive Python, they are one of our precious native species and can be found across the coast of Western Australia, Northern Territory and Queensland. Although they are sometimes a little lazy, they can swim up to 29km/h when they're hungry… Three times as fast as 23 time gold medallist Michael Phelps! But of course our saltie is 100% safe and people-friendly for all ages.
Included in our fantastic Reptile Party Package are:
One hour of fun-filled entertainment!
Attendance of up to 30 children!
Reptile Birthday Invitations (optional extra)!
And making up the most exciting guestlist will be:
A Spiny-leaf Stick Insect
A Green Tree Frog
A Fresh-water Turtle
A Stumpy-tail Lizard
A Monitor or Dragon Lizard
A Carpet Python
A Olive Python
A Saltwater Crocodile