Private Zoo Tours in Melbourne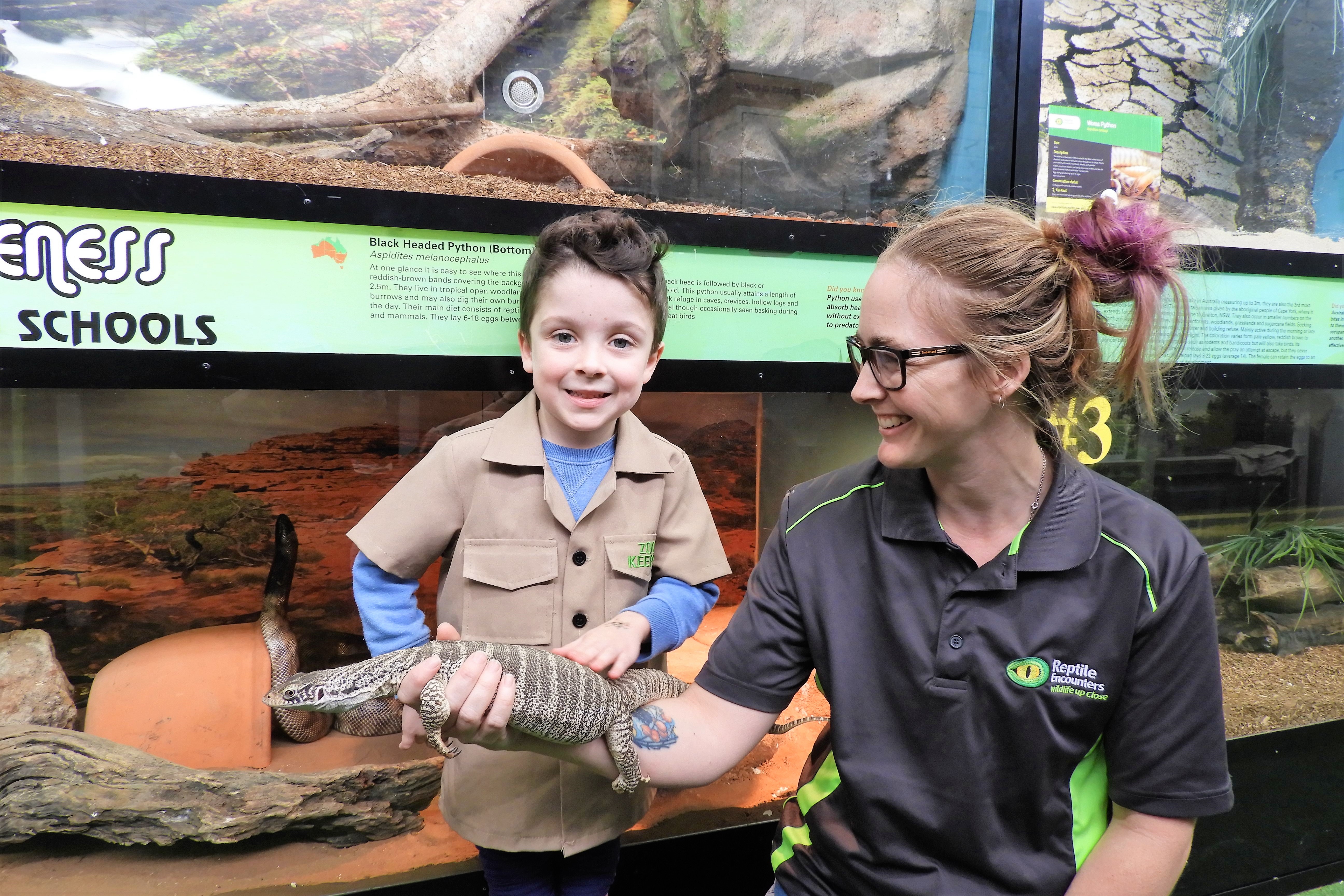 Book a private zoo tour for a maximum of 10 people,  and experience what it is like behind the scenes at Reptile Encounters HQ.
Meet some of Australia's most unique wildlife, right in the heart of Melbourne, and be wowed by our amazing Wildlife Ambassadors as they take you around our suburban zoo.
Mingle with magnificent marsupials, like our Long-nosed Potoroos and endangered Woylies. Have a chat with Sammy, the Red-tailed Black Cockatoo and have a laugh with Jack, the Kookaburra. Marvel at Tiny, the 4m Olive Python and watch how Boof, the Frilled-neck Lizard extends his impressive frill.
From the cute and fluffy sugar gliders to Max, our 2+ meter Saltwater Crocodile, we have it all. Over 1000 animals belonging to over 90 species.
During your 60 minute tour there will be plenty of photo opportunities and you will also have the chance to hold an animal.
Unique zoo experiences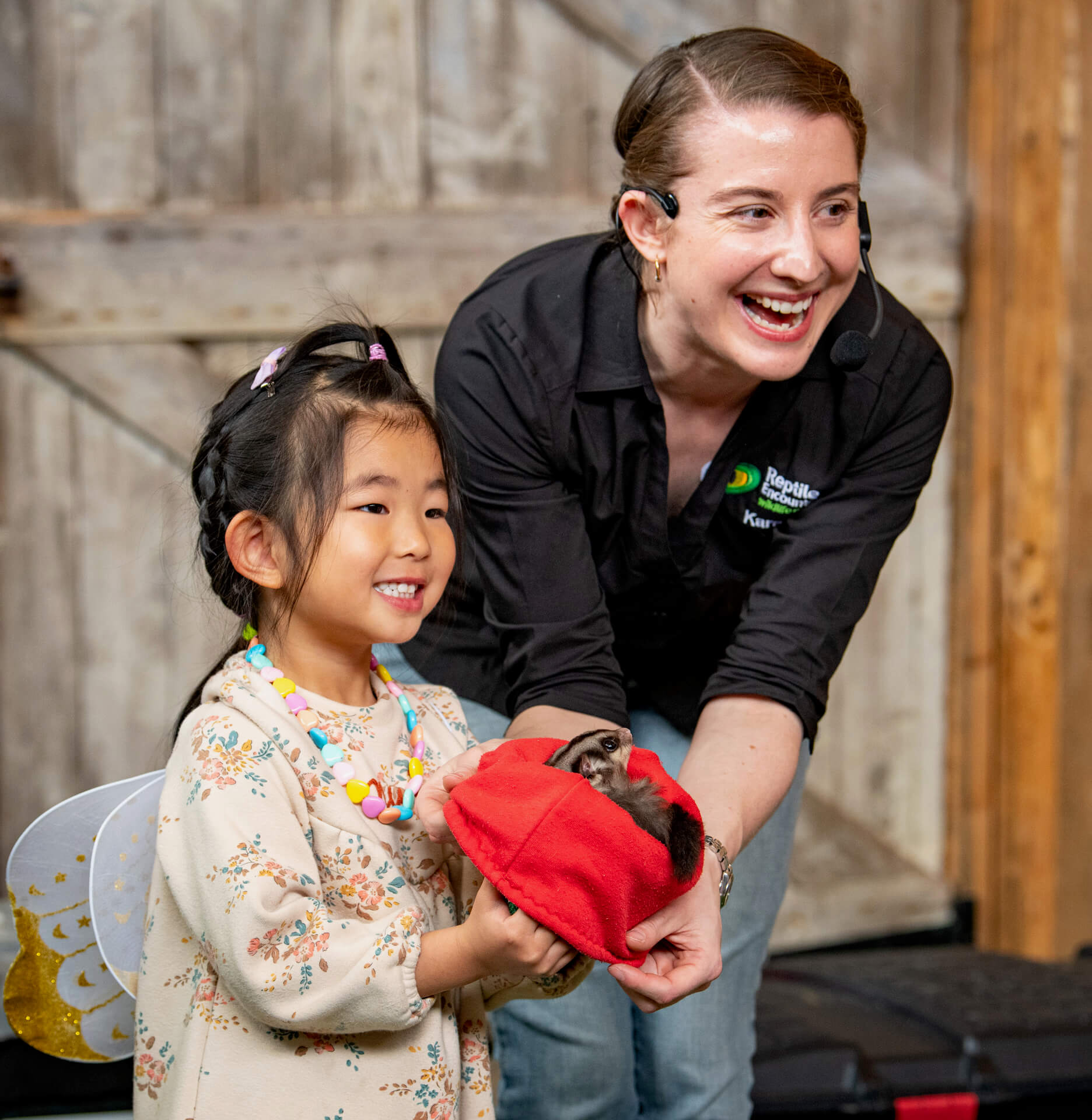 Add these unique zoo experiences to your private tours to make your day even more exciting! Every experience lasts for 30 minutes.
Birds of Prey
Experience what it's like to work with our Birds of Prey. During this experience you will get to see how we work with these amazing animals, including some flying training.
Croc Feed
Ever wanted to know how a crocodile can crunch through the bones of a kangaroo. Well this is just the experience for you. See these incredible animals, which have been around for over 250 million years, as they tuck into a meal. You will be blown away by their power and jaw strength.
Aussie Wildlife Show 
Meet some of the icons of Australia in this 30 minute show. The show will captivate its audience as they learn about the weird and wonderful characteristics of Australian wildlife. Everyone will have the chance to interact with a bird, a marsupial, two types of lizard, two types of snake and a crocodile, and get a chance to hold and take pictures with at least one of our critters.
Build your own experience
Customise your own experience, if you have a group and would love to experience Australian Wildlife please contact us and we can work out something to suit your needs.
Zoo Tour Groups
We are able to accommodate tour groups from 11-60 people and offer them the above zoo experiences and more. We are the perfect alternative on a rainy day, and are very conveniently located close to the Monash and Eastern Freeways, and only 20 minutes drive from the city.
If you are a tour operator, please contact us to discuss the endless possibilities that we offer to enthrall and educate your guests.
For more information or to book your once in a lifetime experience contact fay@reptilestg.saltandfuessel.com.au.
What people have said
"Thank you Fay for a wonderful experience. Eliot was absolutely delighted and I was so thrilled he had such a great time. He declared it the best. And said you were such a friendly woman. Again, thank you so much."